International Harp Therapy Program
Welcome to the International Harp Therapy Program
Imagine carrying your harp into a patient's room. The corridor is filled with noise and activity, and the patient is restless and shows anxiety. As you play with empathy and intention for this person whom you have just met, her breathing becomes deeper and slower, and she visibly relaxes. You notice a new atmosphere of calm in the hallway. Your therapeutic music has changed the environment for the patient, visitors and staff.
Through the training of the International Harp Therapy Program (IHTP) harptherapycampus.com.au you will gain the skills to enter into many different settings and situations with confidence, knowing that your music is of great value and benefit, and that you can respond appropriately to anything that arises.
IHTP effectively integrates both hands-on and online teaching, providing students the benefit of personal attention, and interaction with teachers, guest lecturers, and other students. You will work with accomplished harpists to develop your skills on the instrument: including improvisation, work with modes, and useful repertoire for many situations or ethnic and religious backgrounds. Also studied are music theory and the physics of sound.
You will learn how to work intuitively with patients and clients, weaving familiar songs together with unfamiliar music and improvisations. You will learn how to find and use a patient's resonant tone, create an interactive music program for senior centre residents, youth centre attendees, children with special needs, and so much more!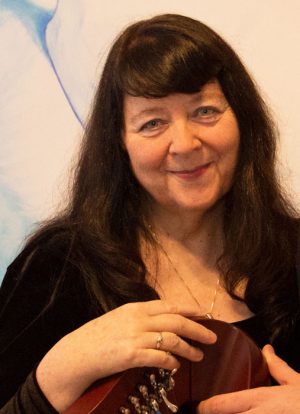 Christina Tourin, IHTP founder
IHTP History
For centuries, the beneficial relationship between music and healing has been well established. We now have substantial documentation of the responsiveness to and appreciation of music by people of all ages and cultures. Music played on the harp has several unique healing properties. The resonance from the strings, including the range of pitch and tonal colour, set up an important relationship between the sound and the recipient. Historically, the harp has been a symbol of relief and comfort. Christina Tourin is a second-generation harpist, enthralling performer and internationally acclaimed recording artist. http://www.playharp.com/christinas-world/
She is also a pioneer and leader in the world of harp and healing. From her initial inspiration in the early 1990s, and through her vision, tireless energy and dedicated teaching, the International Harp Therapy Program is now a highly regarded and sought-after course of study, and is accredited by the National Standards Board for Therapeutic Musicians (U.S.A). The program offers comprehensive training, combining two separate attendance modules, independent (at home) study, and internship. The keynote of convergence draws together science and spirituality; intuition and intellect; and deepened compassionate awareness of self and other. To learn more, please visit our Training page. You will also find links to valuable resources such as free online tutorials by Christina. For close to 3 decades, IHTP has trained graduates from 22 countries across 5 continents, and has now established its global Affiliate Partner Programs, with training available in the United States, Europe, Italy, Hong Kong and Australia. We are fortunate to be able to offer you the Australian Affiliate Program under the guidance of Christina and the IHTP. Our program is also recognised by the Australian Therapeutic Harpists Association (ATHA) https://www.atha.org.au/